Today I thought I'd try and make a nice meal that was tasty, filling and something a little bit special. I had some sirloin steaks in the fridge so here is what I made! It doesn't look quite as appetising as it did in front of me but I assure you - it tasted uhmazing. Best of all, completely guilt free! This is how I did it:
Syn Free! Steak with Mushroom Sauce - Syn Count - 0
Serves 2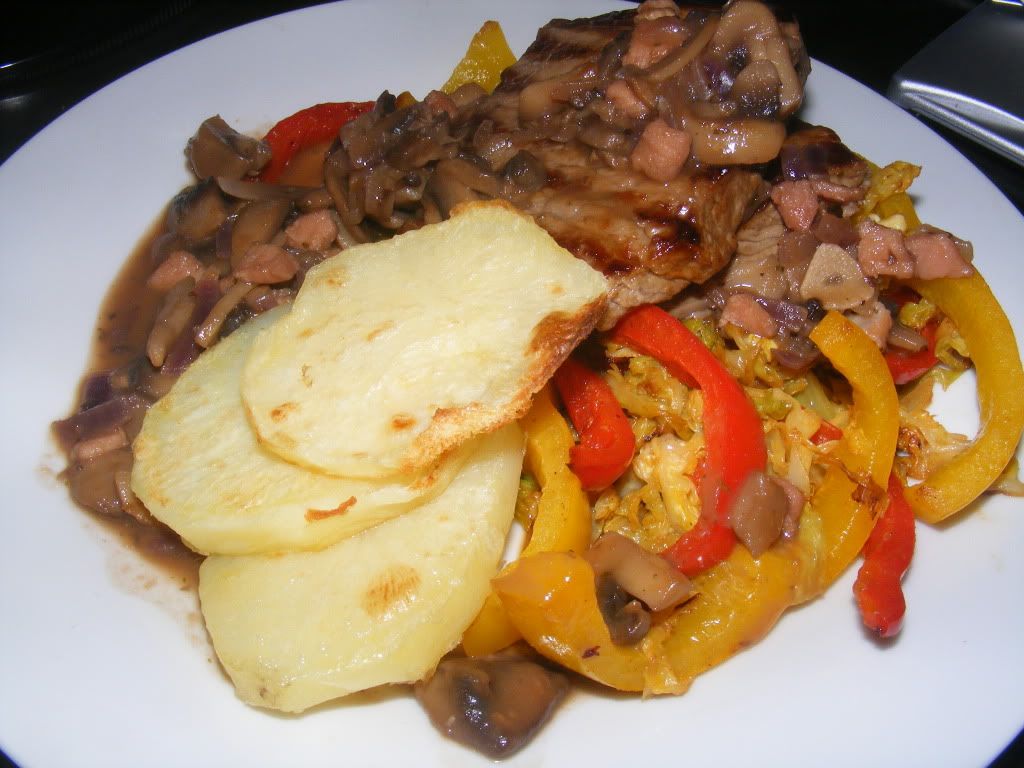 What I used:
3/4 pint of vegetable stock made with 2 stock cubes (other flavours can be used)
3 cloves of Garlic
A whole load of Mushrooms
1 slice of Lean Bacon
1 Red Onion
1 Tbs Quark (this can be replaced with Low Fat Yogurt or Fromage Frais)
Salt & Pepper
2 Sirloin Steaks
Frylight
1.Dice mushrooms, garlic, onions and bacon. Spray some frylight in a non-stick frying pan and begin to fry.
2. Once cooked, add stock and a lid and turn the heat down. Leave to simmer until reduced down.
3. When reduced down, add a tablespoon of Quark to give it a creamy texture. You might need to turn the heat back up so it melts in properly. You can also use low fat natural yogurt or fromage frais if you dislike quark!
4. Add some seasoning to taste and you have completed your syn free mushroom sauce!
5. Season your steaks and add to a preheated grill pan sprayed with frylight. I do about 4 minutes on each side.
There you have it. Guilt free, quality food! I served this on a bed of stir fried cabbage and peppers with some slimming world friendly potatoes. Very successful!
Hope you enjoy!
E